Compile, publish and view your Tobacco electronic submissions.
What do you need to publish today?
Premarket Tobacco Product Application (PMTA), Tobacco health documents, Ingredient listing, Warning plans for cigars and smokeless tobacco, Tobacco Product Master Files (TPMF), Modified Risk Tobacco Product (MRTP), ...
Easily create and publish your tobacco (vape, e-cigarettes) submissions in eTTD (or your own customized) electronic format.
eTTD Modules: Administrative, Summaries, Product Description and Manufacturing, Nonclinical, Clinical-Product Impact on Individual / Population Health, Environmental Impact.
Take a look at Mono TPS Office and save on time/money with your next CTP e-submission!
Invest only 45 minutes of your time in a free live demo of Mono TPS Office.
Tobacco Manufacturer / Distributor / Both?
Do you make, modify, mix, manufacture, fabricate, assemble, process, label, repack, relabel, or import any "tobacco product"?
Looking to manage your eTobacco (eTTD - electronic Tobacco Technical Document) submissions?
Compile
Prepare your submission documents and fill in the provided eTTD / eTobacco customizable template. Behind the scenes: easily split and merge your PDF documents, convert MS Word DOC to PDF, define document Titles, granularity, add XPT datasets ...
Validate
Built in validation ensures your submission can be processed, reviewed and read by CTP/FDA. Validation ensure accepted file formats are used, files are named correctly, deep paths are optimized, ...
Publish -> eSubmitter Package
Main-TOC.pdf auto-generated and optimized. Add your submission files to your FDA's eSubmitter Package.
View
Understand how Authorities see your electronic submission. Reduce review times, increase response times to Agency requests, and ensure faster approvals for your products.
Off-the-shelf
All Windows platforms supported: desktop, client, server or cloud based. Citrix and MS Terminal Services access supported.
In-place validation
A validation system that helps you resolve naming and other errors during compilation time.
Intuitive Interface
Easy-to-use intuitive, configurable user interface.
Convert MS Word to PDF at publishing.
Let Mono TPS Office take care of converting your Word documents to PDF.
Automated optimization
Automatic optimization: ensuring path lengths, removal of orphaned files and empty sections.
Create / auto-correct PDF hyperlinks
Ensuring your PDF hyperlinks and bookmarks are valid, optimized and functional.
Customizable templates
Specify your own eTTD / eTobacco templates.
Compiler and Viewer adapt to your own document naming conventions.
Powerful PDF processing features
Easily combine several PDF documents for a single published document.
Mono TPS Office

Compiler and Viewer modules
TPS / eTTD Compiler (/Publisher)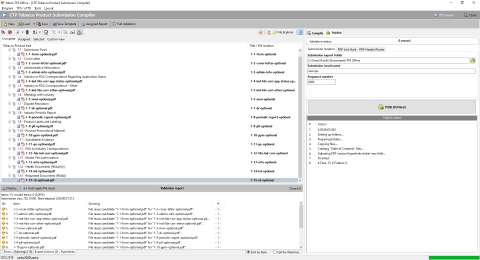 TPS Compiler, a part of Mono TPS Office, is a tobacco product creation, manipulation, validation, viewing and publishing system for tobacco product electronic submissions.
Supporting eTTD (electronic Tobacco Technical Document) structure or your own custom structure templates. TPS Compiler adapts to your file naming schemas for different submission types.
Validation system ensures your documents are named correctly and are of the acceptable size.
Your PDF documents are properly cross linked and optimized. Main-TOC.pdf auto-generated.
TPS / eTTD Viewer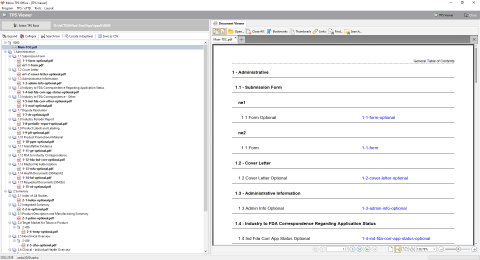 TPS Viewer, a part of Mono TPS Office, is a tobacco product re-viewing solution.
TPS Viewer streamlines review process and ensures faster approvals for your products.
TPS Viewer adapts to your tobacco submission templates by building and presenting a virtual tree structure of files following the eTTD Table Of Content or your own file naming schema.
Embedded PDF Viewer displays your submission documents, supporting hyperlink navigation.
XPT dataset files are displayed in a user-friendly tabular view.
Mono TPS Office
Productivity Tools
Various tools included in the Publisher and Architect editions ensure your work continues flawlessly.
PDF Editor / Toolbox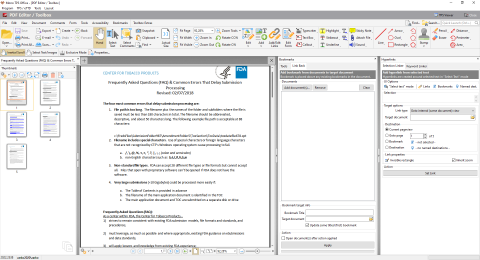 PDF Editor / Toolbox allows you to easily create, view, edit, annotate (create hyperlinks), OCR and digitally sign PDF files. Convert, merge documents, extract pages, optimize, generate bookmarks, add headings, and much more...
Use PDF Editor Toolbox to create and manipulate PDF documents, edit documents (alter text, add images, watermarks, headings), utilize various tools to enhance documents.
PDF Hyperlink Explorer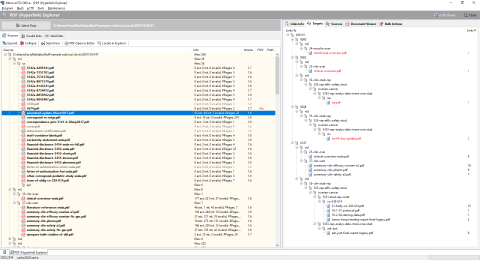 PDF Hyperlink Explorer scans your tobacco esubmission and provides a report listing functional and non-functional links, including all link properties (link page number, link type, link text, target document, destination, zoom and alike).
Use PDF Hyperlink Fixer to explore and quickly process links, adjust links, delete links, fix broken links, clone hyperlinks, optimize PDF documents and more...
XPT Browser and Viewer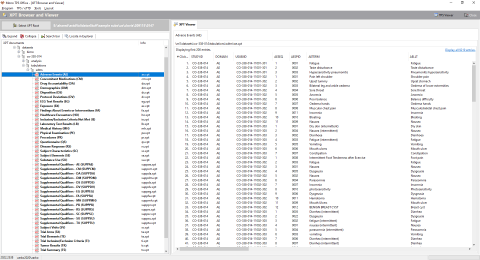 Use XPT Browser and Viewer to quickly scan your tobacco product submission for XPT (SaS Transport) dataset files.
XPT Viewer quickly parses XPT datasets and present all Members including all Observations per Member, in a user-friendly tabular format.
What is your Mono TPS Office Role?
Mono TPS Office is available in three editions: Viewer, Publisher and Architect.
The Viewer edition is for viewing and exploring existing tobacco product submissions.
The Publisher edition is for those that need to create valid and CTP accepted eTobacco submissions.
The Architect edition includes the Viewer and Publisher and additional eSubmission productivity tools.
Mono TPS Office -> FDA's eSubmitter
Use Mono TPS Office, along with FDA's eSubmitter, to speed up, streamline and optimize the preparation of your electronic documents.
Mono TPS Office ensures your eTobacco Product documents are ready and compliant and optimized for eSubmitter.
Licensing model: 1-year subscription

Viewer
Publisher
Architect
Target Environment

Laptop, Desktop, Server or Cloud based. Citrix and MS Terminal Services.

TPS Viewer

Support for TPS / eTTD reviewing

TPS Compiler

Support for TPS / eTTD creation and publishing

Productivity tools

PDF Editor / Toolbox

Productivity tools

PDF Link Explorer
Submission Comparer
XPT Browser and Viewer

Free Support and Updates
Request more info and a personalized offer for Mono TPS Office...
Viewer
Target Environment

Laptop, Desktop, Server or Cloud based. Citrix and MS Terminal Services.

TTPS Viewer

Support for TPS / eTTD reviewing

TPS Compiler

Support for TPS / eTTD creation and publishing

Productivity tools

PDF Editor / Toolbox

Productivity tools

PDF Link Explorer
Submission Comparer
XPT Browser and Viewer

Contact us
Publisher
Target Environment

Laptop, Desktop, Server or Cloud based. Citrix and MS Terminal Services.

TTPS Viewer

Support for TPS / eTTD reviewing

TPS Compiler

Support for TPS / eTTD creation and publishing

Productivity tools

PDF Editor / Toolbox

Productivity tools

PDF Link Explorer
Submission Comparer
XPT Browser and Viewer

Contact us
Architect
Target Environment

Laptop, Desktop, Server or Cloud based. Citrix and MS Terminal Services.

TTPS Viewer

Support for TPS / eTTD reviewing

TPS Compiler

Support for TPS / eTTD creation and publishing

Productivity tools

PDF Editor / Toolbox

Productivity tools

PDF Link Explorer
Submission Comparer
XPT Browser and Viewer

Contact us
Request more info / Contact us
If you would like more info: personalized free quote or a live web demo on Mono TPS Office please complete the contact form: